Typically, your Credit Card application will be rejected if you can't provide SSN (Social Security Number), but there's still a chance for you: most banks accept ITIN (Individual Texpayer Identification Number) instead of SSN.
Apply for U.S. Credit Cards
Open U.S. bank accounts
Accumulate credit history and credit score
Verify PayPal Account
What's ITIN?
ITIN is a tax processing number issued by the IRS, providing a mean to efficiently process and account for tax returns and payments for foreigners who are not eligible for SSN. An ITIN will automatically expire in 5 years.
The Easiest Way To Get
In order to obtain an ITIN, you have to persuade the IRS with a logical reason: You should apply for it when you really need to file taxes in the future or you want to claim the benefit of income tax treaties between your country of citizenship and the United States.
You may ask that how could I file taxes or enjoy the benefit of tax treaties if I have no income in the U.S.. However, with the method I introduced in this article, you could manually generate incomes by publishing E-books on Kindle or a reason to apply for ITIN immediately.
If you are a citizen of the following countries, you could follow the guide and obtain an ITIN whenever you are willing to.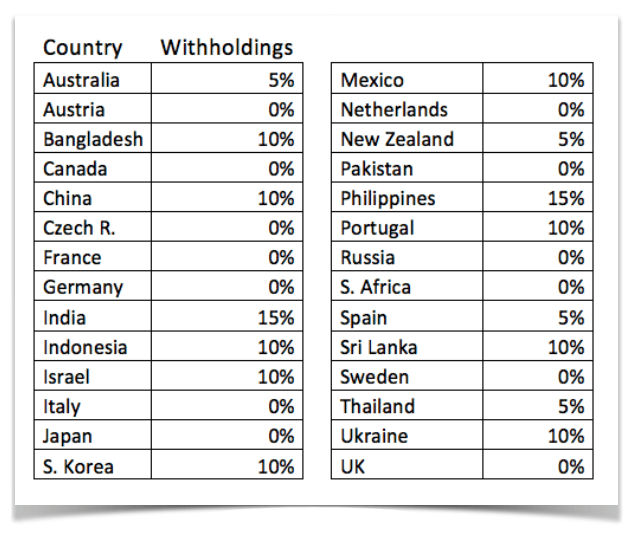 Requirements
A hand-signed letter from Amazon KDP
W-7 Form
Passport or Notarized Copy
A real address outside the United States
Kindle Direct Publishing
Tax Information
Firstly, register for KDP, enter your personal information, and take the tax interview. In the 'Tax Identity Information' section of the interview, you should not select either 'I have a Non-US TIN' or 'I have a U.S. TIN', and choose one of three reasons.
After finishing that interview, you will find out that your 30% of your incomes on KDP will be withholded, which provides you a reason to apply for an ITIN: claim the benefit of income tax treaties.
---
Hand-signed Letter
You should request a hand-signed letter from KDP to support your ITIN application by contacting customer support via email or phone call. Here's my email:
Request for ITIN Letter
Dear Sir/Madam,
I am a resident of China and I plan to publish books on Amazon KDP. According to IRS I am entitled to tax treaty benefits and would like to apply for an ITIN.
Could you please provide me a hand-signed letter from Amazon KDP, written on Amazon KDP letterhead stating that I am a nonresident alien required to get an ITIN to claim tax treaty benefit? My treaty country is China and the treaty article number is 11.
I would appreciate if you could mail the letter to my mailing address provided in my KDP account. My legal name is <Your name> and date of birth is <Your date of birth>. Thank you for your help and I look forward to your reply.
Best regards
<Your name>
---
I received their response in 24 hours and they told me that they will submit a request to their tax team and send the letter to the address I filled in my account profile.
The next day after the first response, the tax team send an email to me that they've already mailed the letter to me and I'll receive it in my mailbox within 2-3 weeks.
Fill in Form W-7
Form W-7 is the crucial part of your ITIN application. You could refer to official instructions and Amazon KDP's helping document to fill it properly.
Obtain a Notarize Copy of Passport
If you trust post service in both your country and the United States, you could mail your passport to IRS, and they will send you back after they review your application, which normally takes a few months.
You could easily obtain a notarize copy of your passport from U.S. Embassy or Consulates in your country by scheduling an Notarial Services appointment on the U.S. Citizen Services page of your local embassy's official website. It will cost you $50 for each notarial signature or stamp and they accept US dollars , equivalent local currency, or Credit Cards.
File Your Application to IRS
In additon to the materials I mentioned above, you should also write a letter of explanation. Here's my letter:
Dear Sir/Madam,
I am a resident of People's Republic of China and all my income, including overseas royalties, are required to be reported to the Chinese government. Currently, I am an author that publishes books through Amazon Kindle Direct Publishing and it withholds 30% of my royalties. Under the tax treaty between the United States and China, I am entitled to a tax benefit with the reduction of tax rate from 30% to 10%. I would like to apply for an ITIN in order to claim that benefit. My residential address is <Your address>. Thanks for your help.
Best regards,
<Your name>
---
You should pack the ITIN letter from Amazon KDP, W-7 Form, your Passport or Notarized Copy, and W-7 form and mail them to the address provided by IRS:
Internal Revenue Service
Austin Service Center
ITIN Operation
P.O. Box 149342
Austin, TX 78714-9342
After filing your application, it may takes a few months for them to review it, and you could check the status by calling: 1-800-829-1040.